Activation Inspiration
For the third annual Mental Health Action Day more than 2,000 organizations, brands, government agencies, and cultural leaders activated to support the global movement that encourages and empowers people to take action for mental health.
See below for Activation Inspiration from Mental Health Action Day 2023.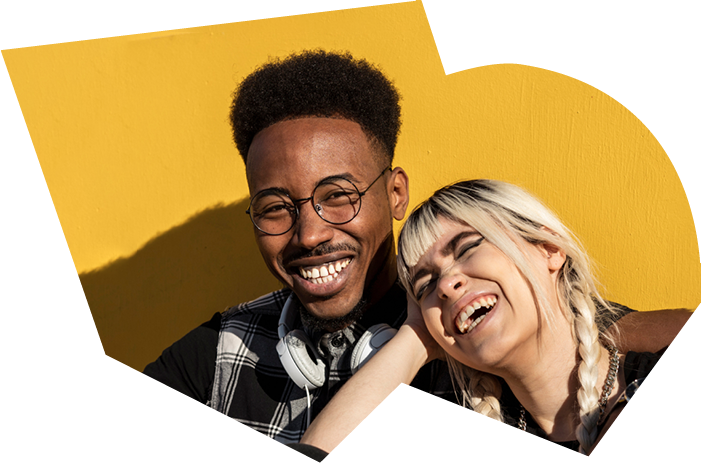 Highlights
Snapchat, YouTube, Reddit, NAACP, and NAMI are among the brands and organizations joining Mental Health Action Day 2023.
Activations include:
Discord helped to amplify MTV's grant program by providing additional funding to three grantees.
Eventbrite has put together a co-branded collection for May.
It Gets Better Project is working with CenterLink and imi for Mental Health Action Day, urging LGBTQ+ youth to spend an hour prioritizing their mental health and using imi as a resource on this day. imi: https://imi.guide
Paramount Global is doing an all-day employee-facing Mental Health Action room in partnership with the Chopra Foundation featuring a meditation and workshop led by Deepak Chopra to allow them to prioritize an hour for their mental health with a workshop designed to connect with our true selves.
Reddit is highlighting Mental Health Action Day on its announcement banner, social, and hosting an AMA with Dr. Karestan Koenen.
Snapchat is proud to be a founding partner of Mental Health Action Day. Snapchat and Active Minds are teaming up to encourage conversations about mental health and wellbeing. The "Let's Talk About Mental Health'' campaign will be brought to life on Snapchat with an Augmented Reality Lens that prompts Snapchatters to discuss actions they take to prioritize mental health and to help teens advocate for themselves, their friends, and their community's well-being.
TIMEPieces, TIME's web3 initiative, is launching a social media-wide campaign to shift our community to take action and support wellness for Mental Health Action Day. TIMEPieces artists, Community Council members, and TIMEPieces team members, in collaboration with Deepak Chopra's Seva.Love and the JOMO Effect project by Shira Lazar, Jordana Reim, and Peace Inside Live, will highlight how we prioritize our mental health, disconnect from an ever-evolving space, and prioritize mental wellness above all every day! Find our community's Mental Health Action Day content on Twitter and Instagram starting May 10th using the hashtags #JOMOEffect and #MentalHealthAction in MetaTokyo in Decentraland.
YouTube is encouraging their Creator Community to create YouTube Shorts about their mental health journey to start a trend for #MentalHealthAction
American Eagle Outfitters (AEO) is kicking off a 3-part webinar series on Mental Health Action Day, focused on resilience for associates. The events will be hosted by Dr. Joshua Schwarzbaum.
Blue Cross Blue Shield of ND is hosting an Employee Assistance Program (EAP) Scavenger Hunt. Employees can win a gift card to a local sporting goods store by locating items on our employee assistance website and answering questions.
Doing Good Works will close their offices at 3pm in each team member's time zone as part of their "Be Kind to Yourself" program so all employees can have the balance for personal time.
evolvedMD will prompt managers/leaders to spend one-on-one time with their direct reports to practice psychological safety, anchored by seven key questions. It can take place on May 18th or any day after when the manager and employee have time to set aside 30 minutes to an hour. Psychological safety is proven to significantly reduce stress and enhance overall engagement and happiness at work.
GumGum is hosting a session for all employees on Mental Health Action Day to learn about combatting imposter syndrome with Heal Haus. They are also encouraging employees to speak out on how they protect their mental health in a company-wide Slack challenge.
Health Action Alliance is mobilizing employers of all sizes to activate by giving their employees time and space to take action for mental health including the Mental Health Action Day Planning Guide for Employers and Sample CEO letter declaring support for the movement. "While the emergency declaration for the COVID-19 pandemic is ending, data shows significant mental health impacts on today's workforce will stay with us. This trend is particularly acute for Gen Z workers, and will have lasting consequences for employers. Business leaders who recognize and address mental health in the workplace can gain a strategic advantage in attracting and retaining top talent, enhancing productivity, and fostering innovation," added Health Action Alliance Executive Director, Mark SooHoo
Kenneth Cole: On May 18, in honor of Mental Health Action Day, Kenneth Cole will be offering a company-wide early dismissal. Everyone will have the option to end their work day at 1PM and is encouraged to use that time to do something to better their own mental health. Kenneth Cole will also be offering a company-wide lunch and learn on May 17 in honor of Mental Health Action Day to talk about the importance of mental health in the workplace and discuss some beneficial things that people can do with their time off the next day.
March of Dimes: A 1-hour hold for all March of Dimes employees with suggested actions to take care of their mental health, plus a 30-minute guided webinar to talk about the importance of Mental Health.
Media Cause: Celebrating by encouraging everyone at the agency to schedule four 15-minute breaks throughout their day on 5/18. They can use these breaks in whatever way is most supportive for their individual mental health: walking, reading, napping, exercising, etc. For each break, they will invite the team to take a photo of their activity and post it to their #agencyphotos slack channel--both for group accountability, and as inspiration for others.
Meteorite will hold a 1-hour mental health conversation with the team, which will conclude with an announcement for a company-wide day of rest in the month of May.
Second Harvest Food Bank of Central Florida employees are invited to take some time on May 18 to color! Letting your mind wander and getting creative with your hands are great ways to take time for mental health.
Showtime/MTV Entertainment Studios is doing an employee-facing panel on Mental Health Action Day with some of the Wolf Pack cast and showrunner talking about how they used the mental health media guide in the writers' room and while in production.
NeuroMed Research Initiative, LLC will implement an officially mandated Mental Health Policy and creation of an ERG with a focus on mental health equity to influence & impact the new inclusive, culturally-sensitive corporate framework to empower individual & professional development and improve cognitive fitness with the latest neuroscience research to derive applicable data and insights.
The Paramount Veterans Network & GI Go Fund invites Paramount employees to a Coffee With Vets: The Great Constantine Golf Across America! Join us for a game of mini golf to lower stress as part of Mental Health Action Day. This event is honoring the one year passing of LtCol Justin Constantine, Marine Corps Veteran, who used golf to help him recover from his mental wounds, and it was key to his success in life.
Providence's Well Being Trust will invite their 120,000 caregivers (health care workers) to dedicate one hour to take action for their mental health.
Starbucks in Coral Springs, FL: Will host a one hour In-store Coffee Tasting & Introduction to Lyra Health Benefit. The Black Partner Network will also host a one hour Teams call to pause for a fully virtual moment of rest and reset bringing awareness to the importance of mental health. In this session hosted by Lauren Nimmons, Co-Chair of BPN, we will begin with a few truths about mental health and the Black community. We will transition into a moment of meditation led by Xaverie Persiani. Following the meditation, Alyssa Brock will share resources offered by Starbucks to support mental health.
Activations in Communities
Mental Health Action Day events take place in cities around the world, including nonprofit activations by MTV's 22 Mental Health Action Day 2023 grantees. A selection of events taking place in major American cities is listed below by state in alphabetical order.
California
Los Angeles
Climate Mental Health Network will launch 'Playground Earth: Activating Climate Emotions' the first of an annual event on Mental Health Action Day to provide resources and actions for people to foster individual emotional well-being and take part in community action to address the mental health impacts of the climate crisis.
Los Angeles
Rainbow Labs: The Trevor Project Reported in 2022 that 45% of LGBTQ youth seriously considered attempting suicide in the past year. Rainbow Labs will highlight the challenges of LGBTQ+ youth mental health and bring together a half-day conference of youth development providers, mental health professionals, and stakeholders to discuss solutions and training to support LGBTQ+ youth mental health.
Los Angeles
The Hidden Opponent will partner with Listen Up Cogwell to provide free active listening workshops to various college campuses across the northeast. More than 250 student-athletes and student leaders will be trained in active listening so that they can better support their teammates and peers.
Los Angeles
WisdoMania Foundation: Peer Support Visual Arts workshop in a local high school incorporating breathwork, meditation, art, and sound healing. Students will be prompted to paint a scene of when they've felt most supported or how they support their peers, then share it with the class.
Los Angeles
Changing Tides will be present at Corridor Flow, an Asian American-owned small business in Lomita, CA, to hand out pamphlets and speak to customers about the resources that Changing Tides offers. This includes CT Stream, our therapy stipend initiative offering up to 10 free therapy sessions for individuals between the ages 16-29, as well as CT Anchor, our suicide prevention initiative offering free suicide prevention initiatives to organizations and individuals.
Los Angeles
The Fallbrook Regional Health District will be supporting Mental Health Action Day on May 18th with one hour mediation class to support our staff while making it available to the community on Facebook Live. We will be enouraging our community on social media to join in by taking an hour to do soemthing good for their own mental health.
Colorado
Military Basketball Association: Wheelchair basketball and adaptive sports event for disabled veterans to challenge the stigma that those who suffer from mental illness face their challenges alone partnering with Gold Crown Foundation and former Denver Nuggets Head Coach, Bill Hanzlik to be followed by Mental Health Action panel and conference featuring combat veteran and suicide survivor, Retired Command Sergeant Major (CSM) Thomas Campbell, who is also a standup comedian that speaks on mental health and resiliency.
Alabama
Birmingham
Magic City Acceptance Center is launching a month of LGBTQ-affirming mental health-centered programs and events, kicking off on Mental Health Action Day, and running through Birmingham Pride in early June. These programs are designed to inspire individuals to speak up about their needs, de-stigmatize mental health, and speak with licensed professionals in order to develop long-term plans for support and access to free/sliding scale affirming counselors.
Arkansas
Little Rock
Tavaris Jones Foundation will host "Youth Minds Matter" Conference. This conference will include a 1-day event with a full day curriculum of Teen Mental Health First Aid and certify 100 9th -12th grade students in the Pulaski County Central Arkansas area. Quinyatta Mumford, founder and CEO is a Certified Health Education Specialist and a licensed mental health training provider. She is currently the only trained teen Mental Health First Aid provider in Arkansas.
Georgia
Atlanta
Black Girls Smile Inc.: 'A Day of Play' centered on demonstrating how physical activity plays a crucial role in the holistic mental health of Black girls and women between the ages of 13 - 25 years old. The event will feature opportunities for participants to engage in activities like yoga, team obstacle courses, tug of war, and more.
Atlanta
The Confess Project: The Healing Hair Battle, a live competition at cosmetology school where students will create teams and be challenged to create hairstyles that incorporate mental health action messages such as Active Listening & Validation featuring Miss Georgia USA 2023, Rachel Russaw, as one of the judges.
Idaho
Driggs
The glowmedia project and Charley Bear Productions will be premiering the short film, Unimaginable and also showing suicide prevention film, There Can Be Light, in collaboration with the Mental Health Coalition of Teton Valley, and Teton High School. The screening will be followed by a Q&A with Executive Producer Trish Glowacki and writer/director Angela Cohen who will talk about the making of the film and the teen mental health crisis that has ensued as a result of the pandemic. The event is free and open to the public. RSVP here.
Illinois
Simply Bee Counseling is hosting a walk/ice cream social for our community and the donations raised are going towards a local non-profit that supports first-generation students headed to college.
NAMI IL Young Advocates group for ages 17-27 is hosting a virutal Watch-Party for their community. Centered around Stigma, Advocacy, and creating a community of support! Register here to get the Geneva Invite.
Indiana
Greene County Health Inc will be dispensing mental health care boxes to providers who treat local youth, 12 champion peer student winners of a gift pack with newspaper interview, and social media video released made with local Bring Change to Mind club.
th|AIR|apy will be hosting workshops in Indianapolis (May 15-18) focused on mental health awareness specifically tailored to the challenges faced by flight attendants.
Maryland
Passion for Learning: Take Action! For Mental Wellness event will provide an opportunity for high-school and college-aged students to take a meaningful break from the hustle and grind of AP tests and final exams and discover strategies for reclaiming their mental wellness through guided meditation and deep relaxation. This event will be open both to students and to the local community.
Michigan
Taylor Made Re-Entry and F.A.I.R. Voting Alliance will offer a mental health action seminar at the Genesee County Jail for both the residents and staff on May 19. The morning session with 50 jailed participants; will comprise of a session with 25 women and a session of 25 men where participants will receive mental health resources, books, materials, that will help them cope and build resilience. Later in the afternoon, there will be a mental health workshop for interested staff. Food, speakers, and resources will be made available to staff who are struggling professionally and personally with mental health issues. With a recent increase of suicide attempts by the residents of the jail. It's important to address the mental health of everyone as suicide attempts have an impact on all people.
Easterseals MORC will be partnering with Blue Cross Blue Shield of Michigan, Blue Care Network, and Blue Cross Complete for Take-A-Break Thursday, 5/18. They will encourage their 800,000 followers to celebrate mental health, encouraging them to take a break and utilize free, anonymous, online mental heath screening. They have also designed "Mental Health Begins with Me" shirts, distributed to Easterseals MORC and select Blue Cross Blue Shield staff to wear in social media posts.
Great Lakes Bay Health Centers: Students will make a pledge to take time for themselves and they will write something they will do on a green MH ribbon. There will be "stations" where students can make a calming jar, do temp tattoos, coloring sheets, stickers, and write a thank you to someone special to express gratitude while affirming themselves. During lunches, a curated music playlist will play with mental health songs. Tables will be available with mental health table clothes and positivity cards. ("Thompson Middle School (3021 Court St. Saginaw, MI 48602) During 7th/8th grade lunches- 8th grade- 11:09-11:49 AM, 7th grade- 11:57-12:37 PM)
i understand is hosting MENTAL HEALTH ROCKS, connecting music and mental health with an in person event that will include a virtual interview and performance by Brian Van Ark, lead singer of Verve Pipe, live music performances from local musicians, virtual interviews with each artist, discussing their mental health journeys and the benefits of music. The Collaborative Lab located at 934 W River Center DR NE Comstock Park, MI 49321 - this event will also be live streamed.
North Carolina
El Futuro: "Voces Unidas: A Day of Community Healing and Mental Health Visibility" will be an all-day celebration of Latinx-youth-led and Latinx-youth-focused mental health activities designed to build awareness of Latinx youth mental health and supportive resources, destigmatize seeking help, and inspire action and healing. The day will also feature parent information sessions on different issues (parenting a LGBTQ child, talking with your child about drugs and alcohol, etc), supportive community resources, and an evening celebration planned by our Youth Advisory Council including food and drink, a bonfire with s'mores, and music.
Break the Silence: The Piedmont High School Break the Silence club is branching out to involve the whole community in Mental Health Action Day. The event will be targeting high school students with color sheets in their 4th block classes for relaxation, plus games, trivia, and contests surrounding the stigmas about mental health and how to break the stigmas.
New Jersey
Rami's Heart Covid-19 Memorial: Will partner with local Wellness Center, With Intentions to host a singing bowls meditation on the beach in Belmar near the Memorial. The event will take place during the hour the sun sets and will encourage everyone to unplug and take the time to self reflect. Each attendee will be given a yellow painted seashell and a candle to light in honor of their loved one and as a symbol of Rami's Heart Covid-19 Memorial.
The Gem Project: Will team up with school administration to offer guidance counselors training for them to become Mental Health First Aiders and bring a day of action to students through the arts by a series of art activations with local teaching artists. Overall impact will engage 500 Newark Public School and public charter high school seniors with an action plan to combat stress and anxiety, as they navigate the completion of high school and a successful transition to a college, university or a trade school.
Someone's Daughter will host a yoga and meditation workshop for teen girls.
New York
Luminary founder and CEO, Cate Luzio will be in conversation with Marina Khidekel, Founder of Hugimals and Kia Wilson, Lead Product Manager and ERG Lead, Verizon discussing and sharing insights on how women can best navigate the specific challenges they face around mental health in the workplace -- i.e. women are twice as likely as men to experience depression and anxiety, pay inequity is real, caregiving responsibilities can feel constant, and gender-based violence are among the contributing risk factors to common mental health conditions. In-person attendees can come to Luminary - 1204 Broadway, New York NY 10001 (4th floor) and virtual attendees will join via Zoom. 5pm - 6:30pm ET - RSVP here.
Morgan Stanley's global headquarters' signage in Times Square (1585 Broadway, New York, NY) will be taken over by Mental Health Action Day. Also, the Morgan Stanley Alliance for Children's Mental Health opened its third Innovation Awards application. The initiative grants five nonprofits $100,000 each and provides support through publicity, fundraising opportunities, and consultation and training with industry professionals.
Paramount Global will host a takeover of Times Square signage to spread the message of Mental Health Action Day.
Sounds of Saving: Will connect high school students from NYC at Central Park East High School and Urban Assembly School of Music and Art, in particularly at-risk populations, to musicians and their stories of perseverance. This collaborative program will be a mix of storytelling, performance, discussion, and taking action.
The HOPE (Healing On Purpose and Evolving) Center - FCBC Community Development Corporation: An after-school symposium for youth called Let's Talk: Youth Mental Health Action Day to strengthen youth engagement and voice in partnership with the American Psychiatric Association Foundation (APAF). Free and open to the public, this event will provide education about mental health, suicide prevention, substance use challenges and care to improve the mental health of young people overall with an emphasis on youth of color.
Que Paso Latinx will host several Que Paso Chats in partnership with local school district. Que Paso chats are fireside chats with moderated panels. Panelists will include community members from different walks of life and the moderators will be two students from each school. Additionally, that evening, Que Paso Latinx will be hosting a networking mixer for community leaders which will further drive action with a focus on educating leaders on the importance of emotional intelligence and the role they play in serving community mental health needs.
EPIC Long Island is hosting a mental health fair on site for staff and interns. Several fun activities are planned that are focused on self-care and stress management, including an art table, an 'Express Yourself' wall where they can share positive messages about themselves and post, a 'Balloon Pop' for anxiety relief, and a photo corner with Instagram signs, where they can create positive message signs to share on social media. There will be an information table available on how to create a Mental Health Toolkit, as well as resources on where they can reach out for help.
Pennsylvania
Citrone 33: Citrone 33 and The JED Foundation are hosting an event to bring together leadership from the Pittsburgh Youth Mental Health Coalition and the 11 Pittsburgh universities and colleges to spend the morning at Acrisure Stadium for invaluable connection and programming to address youth mental health.
Pittsburgh Warriors Disabled Veteran Hockey + The Malone Family Foundation: Celebrity + Disabled Veteran Hockey game in partnership with former NHL star Ryan Malone featuring two-time Super Bowl Champion Brett Keisel and NHL Hall-of-Famer Mark Recchi. Pregame panel discussing the power of sports x mental health. Will produce highlight reel and hold auction afterward w/ signed jerseys to benefit the Warriors.
National Youth Foundation: The "I Matter" project will launch over 25 poetry and art workshops to help youth in Philadelphia to process their feelings about racism and the high level of violence in their communities. The goal of the "I Matter" project is to help youth develop coping strategies to deal with racism and violence.
The Hidden Opponent will partner with Listen Up Cogwell to provide free active listening workshops to various college campuses across the northeast. More than 250 student-athletes and student leaders will be trained in active listening so that they can better support their teammates and peers.
South Carolina
Connecting the Dots is screening the first feature documentary of its kind to offer a raw and intimate look at youth mental health from a global perspective. With heartfelt poignant stories of lived experience exclusively showcasing young voices from a global perspective. Georgetown County Library, 405 Cleland St., Georgetown, SC at 6PM on May 18th.
Tennessee
Free2Luv, Hot 106.7 in Nashville, and musicians Charlotte Sands and Alex Angelo, are producing 'Hot for Mental Health,' a event filled with inspirational music, heartfelt conversations surrounding mental wellness, and free creative expression journals. No matter where you are on your mental health journey, come use this space, time, and live music to take empowered action toward a healthier and freer YOU! Sign up now for FREE TICKETS at hot1067.com. If you're not in Nashville, the event will be livestreamed on @free_2_luv's Instagram.
Texas
The Defensive Line: will throw a mental health rally hosted by NFL Defensive Lineman Solomon Thomas. The mental health rally will include three pillars of mental wellness - mind, body, and spirit. Mental health experts will present a brief, inspirational message on the importance of mental wellness.
Utah
'SHAKE for MENTAL HEALTH' will be held at Millennium Dance Complex in Salt Lake City, where attendees will participate in an activation that is focused on mental health and wellness. The event will include a movement, self-care and mindfulness practice, designed to promote wellness and connection. (Millennium Dance Complex, 602 East 600 South, Salt Lake City, UT 84105, 7:00pm-8:00pm MT)
Virginia
Principle Pictures is planning a screening of Our Turn to Talk. At the end of the screening attendees will have an opportunity to sign a Brave Note and share a little about their mental health story.
Our Minds Matter: "Move with Music for Mental Health Action Day" will engage thousands of students with a Hidden Healers playlist song via school-wide announcements in schools with OMM clubs in the DC-area, including Washington, DC, Fairfax County, VA, and Montgomery County, MD public schools, as well as OMM's national network of schools. Students will be given a 10-minute to 1-hour action plan depending on school preferences.
Washington
The Benji Project: A multisensory pop-up event, or Sensory Fair, open to all community members free of charge. Local middle and high school students will share how they use the five bodily senses to manage stress and reduce anxiety. Everyone who attends the event will have the opportunity to engage in these sensory activities and find those that most effectively help regulate their emotions and improve their mind-body balance.
International
Flourishing Minds Clinic in collaboration with Sequences, a holistic wellness center we engage the community to NOTICE & LEARN through a series of activities that involves movement, regulation, and creative expression on 18th May, 2023 and invite the community to a call of action to GIVE & FLOURISH inviting engagement through time and energy, providing emotional support, and acts of kindness. Park Hyatt Doha Street الدوحة, الدوحة Qatar - RSVP here.
International Mental Health Association: Planning a hair day in Kibera, the largest slum in Africa, where young mothers get pampered, get their hair done, make them feel valued, and get diapers.
Triumf Health: In honor of Mental Health Action Day, the award-winning mental health game Triumfland Saga for kids is available for free with the access code Action2023 at https://triumf.health/saga-access The game is available globally except for Russia, Belarus, India. And it is in 6 different languages (including English).
United for Global Mental Health will host a media round table discussion with journalists within the African region. Virtual, 2pm BST - RSVP here.
World of Women and Held Mind will host an IRL event in London at Curve Club to bring together mental health advocates, licensed therapists, and women in tech to amplify the message that we all have mental health and we're all allowed to prioritize our wellbeing. RSVP here.
Think-Film Impact Production will be continuing the Mental Health Action Day conversation at Cannes 2024 with an Impact Panel on Friday, 5/19
MetaVerse
Songbird Collective and TRU Band Room will host 24 hours of LIVE music in the Decentraland metaverse from 12am ET to 11:59pm ET on May 18th at https://play.decentraland.org/?position=-69%2C69 Resources and video clips will be shared from Mental Health Action Day Partners in between live performances. RSVP here.
CosmoPollys we open a pavilion in the CosmoPollys Microverse for Mental Health Action Day - this will be a room in the metaverse that encourages 1 hour of self-care. The details of this space will be shared with our community of holders on Discord.
Peace Inside Live and Seva Love will host a Decentraland metaverse experience to celebrate at 1pm ET. The Jomo Effect gallery will showcase art from 40 artists and there will be a panel with special celeb guests and leaders in mental health. The 3D virtual multi-sensory wellness experience will be held at the Secret Moon Hot Springs by Supermind Studios in the MetaTokyo Decentraland district. Enter the 3D virtual space here. People from different parts of the world can conveniently access an immersive meditative space to celebrate the event and enjoy learning about the JOMO (Joy of Missing Out) Effect's campaign. If you're a holder you can also access a special emote as part of the experience!
The STEAM Connection: Meet a new interactive youth-led mental health lens for youth to show them as mental health superheroes that utilizes Indigenous traditional knowledge and is an immersive step-by-step experience with breathing and mindfulness exercises that users are walked through by a Native superhero. For Mental Health Action Day they are scaling through a Metaverse AR activation, social media awareness campaign, and student resource day and estimate to reach 500,000-800,000+ users. This activation will be run by Indigenous-run charity The STEAM Connection and Chicano and youth-owned AR design firm Lucid Skies.
WEOM, a Metaverse for Humanity, will host a virtual mental health forum on Discord, inviting the community to share their insights and experiences surrounding mental health in the all-consuming Web3 space.
Virtual
Abundance of Hope Counseling Chikeitha Owens will be going live with Dr. Joe Cribbins with Texas Center for Bariatric Advanced Surgery to discuss Mental Health as it relates to Bariatric patients pre and post op. Thu, 5/18, 8-9pm ET. RSVP here.
Advocates for Human Potential (AHP) and the Wellness Recovery Action Plan (WRAP)--an evidence-based wellness tool used around the world in mental health settings, schools, prisons, SUD programs, etc.--will be offering a WRAP wellness coloring book that includes the key concepts of WRAP and mindfulness coloring pages. The download will be free and available on the WRAP website.
Ali MacLean & The Cathartic Company: Hosting a roundtable event featuring NAMI representative Britt Turpack, White House Mental Health Ambassador Juan Acosta, recording artist, activist, and singer for Fitz and the Tantrums Noelle Scaggs, actress, artist, and NAMI ambassador Carly Chaikin, actor/writer and MTV MHAD ambassador Ali MacLean, and more. MacLean will also be doing one on one interviews with other guests such as Golden Globe winning actress Rachel Bloom, Netflix stand-up comedian Brent Morin, and more.
Backline Care will invite individuals to sign the Break The Barriers pledge that aims to end the stigma around mental health and provide equal access to care for communities of color.
Born This Way Foundation will invite the public to earn their The Be There Certificate. The Be There Certificate is a free, self-paced online mental health course, available in English, French, and Spanish, with original content written and filmed for each language - created by Jack.org in partnership with Born This Way Foundation.
Breaking The Chains Foundation presents a Special Mental Health Conversation - It's Okay Not to Be Okay with Board/Celebrity Ambassadors Jillian Rose Reed (Tamara on MTV's Awkward) and Courtney Hope (Sally Spectra on Young and The Restless) on May 18th, Mental Health Action Day! (Virtual Zoom: 9 am PST)
Bring Change to Mind will invite their community to have a conversation about mental health with someone they love, with examples on how to have the conversation like "Say This, Not That".
Clayful Health is launching a 5-day wellness challenge where students across the country in grades 3-12 will try something new - each day, for five days - that will improve their lives AND that of those around them. May 15-19. Learn more at: clayfulhealth.com
Crisis Text Line is inviting their audiences to #DoubleTheGood they do for the community by becoming a Crisis Text Line volunteer and/or recruiting friends to sign up to volunteer. The Double It part comes by also donating to Crisis Text Line and/or asking others to donate.
Danielle L. McDowell, LPC will host a free lunch and learn to share insights on how to manage your emotional health and provide information for how to increase your self care. She will use the interactive hour to share her knowledge while encouraging others to activate the wisdom from within. This virtual experience will be open to the public and she will be challenging participants to dedicate one hour that day to improve their individual mental health.
Delilah Counseling plans to go live on instagram with other female mental health providers in Nashville to talk about the relationship between mental health and women. Topics to be discussed include shame around reaching out for help, anxiety and depression related to self/esteem and body image, and the effects of being a mom / caregiver while dealing with mental health struggles. Each Instagram Live will end with ways to can take action to support women dealing with mental health concerns.
Drag Story Hour will host a series of virtual digital events on Mental Health Action Day featuring drag storytellers where they will share their unique stories, direct their viewership to mental health resources focused in states who have passed - or are currently attempting to pass - anti-drag legislation.
Equid Branches Wellness Service LLC will go live with Tugboat and Ponyboy, two therapy ponies and talk about self-regulation. They will be sharing helpful tips on how to calm down in stressful situations. This event will be lead by licensed mental health professionals
Eventbrite launched a Mental Health Action Day collection of events here.
Experience KZW, LLC / Kwadeidra Zhane' Wilson will release a presentation called Fresh Off The Porch: The journey from youth to young adult. This storytelling experience depicts the transition from youth to young adult from a LBGT, black woman's perspective. It is their hope that this film will bring awareness to the systematic struggles' youth live with and also to parents looking to understanding how to better care for their children.
Harry's: Launching a one-day digital activation for Mental Health Action Day to encourage customers and online community to learn more about their own mental health needs by taking one of several free, anonymous mental health screeners from partner, MindWise Innovations. After taking the screener, folks will be provided with comprehensive explanations about moods and behaviors and can access tailored materials about what they can do next for support.
Healthy Gamer is hosting the Mindful MAYhem Challenge for Mental Health Action Day, a two-week community event promoting mental health action and mindfulness. Participants can kickstart their journey towards better mental health by taking part in the challenge, where they can earn points and win exciting prizes by submitting photos of themselves completing mental health actions such as meditating, practicing yoga, taking a nature walk, or taking a mental break.
Held Mind and Swagger Society will be co-hosting a Twitter Spaces on Mental Health to center the conversation around self-worth, self-esteem, and creating safe spaces in Web3, where communities will grow together, motivate one another, and lift each other up.
Hope with Facts will cover the cost of a Mental Health First Aid certification training for the first 30 people to sign up on Mental Health Action Day. Register here on May 18th.
Inelegancies: Release of the pilot episode of the "Off the Pedestal" podcast show hosted by Bhavya Rai, a project borne from the teamwork and resources provided via the MTV Mental Health Youth Action Forum in May 2022. Community Discord and Patreon is also set to release on this day to foster greater community in the mental health space. Sponsors include MTV, Zoom, Pinterest, and Global Changemakers.
Inner-City Arts will produce a Mental Health Action Day episode of their youth-powered web series, Rated Z For Everyone, using the arts to share important messages to Gen Z about mental health and other subjects of great importance to their peers while also developing an accompanying school curriculum to bring the conversation into the classroom.
Inseparable will share their 'Mental Health Heroes Spotlight' including several policymakers, public figures, and community leaders moving the needle in the world of mental health. They will also invite others to submit mental health heroes from their own life or community that Inseparable can honor in a future round-up.
Legacy Youth Leadership will launch "Speak Your Mind" and invite students to text "SPEAK" to 833-317-0721 which will provide a link to mental health resources provided by The Steve Fund. Students can also "Share Your Story" and submit an account of their own mental health journey. Students who complete a submission will be eligible for 1 of 10, randomly selected, scholarships for mental health services provided by BetterHelp. PSAs and co-branded posts will launch this on May 18th on Mental Health Action Day and will run through June 18th.
Looms For Lupus is hosting a 1 hr live symposium via Twitter, Facebook, and YouTube to provide ideas on how to take Action for Mental Health. They are providing temporary tattoos so individuals can place #iTattoo4MentalHealth and show others they have taken action and committed to at least 1 hr for their mental health.
The Mental Health Coalition will be talking about emotions and feelings with their "Reveal How You Feel" campaign. The Coalition has created a custom audio recorded by, internationally renowned television personality, radio showhost, platinum-selling recording artist, and mental health advocate, Michelle Visage. In Michelle Visage's, video she shows us how we are quick to show happiness and more hesitant to reveal a range of more complicated emotions.
Mental Health Collaborative will post on social media asking followers to participate in any of the 3 following ways: 1. Write a letter to state stakeholders asking them to mandate mental health education. Will provide an easy to use template and directory to find your state's Department of Education. 2. Start a conversation about mental health with family, friends, or coworkers. Opening up the conversation decreases stigma and normalizes mental health. 3. Get educated in mental health by asking your school, organization, or community to sign up for Mental Health Collaborative's Mental Health Essentials programs.
MindUP will share regular "Brain Breaks" and mindful breathing with Goldie Hawn. Based firmly in neuroscience, MindUP teaches the skills and knowledge children need to regulate their stress and emotion, form positive relationships, and act with kindness and compassion.
Mindsy will host "Mind Over Matter," a virtual event on Instagram Live, designed to help entrepreneurs prioritize their mental health and well-being. Through guided meditation, thoughtful journaling prompts, and a restorative yoga session, you'll recharge your mind and body and gain valuable insights into how mindfulness and self-compassion can enhance your productivity and creativity.
The National Association for the Advancement of Colored People (NAACP) is launching a spoken word piece called Healing While Black. Poets Jaheim, Brianna, Erica, Ashanta, Nick, and Cici will be writing and performing a poem focusing on the importance of building a recipe of healing for the Black community. This will be launched on their YouTube channel: youtube.com/@NAACP
NAMI will go live on Instagram @namicommunicate on May 18 with Actress & NAMI Ambassador Alessandra Torresani and Former Acting CA Surgeon General Dr. Devika Bhushan to discuss Mental Health Action Day and bipolar
National Council for Mental Wellbeing and Mental Health First Aid will ask employees to share tips on how they promote mental wellbeing in their own lives, and will share a blog on 25 Ways to Take Action through the Mental Health First Aid training program.
National Organizations for Youth Safety will be equipping staff, board and volunteers to send encouraging text messages and emails to NOYS LGBTQIA youth on mental health resources, crisis support, and rest is resistance resources.
No Time to Fail will be offering free on-demand viewing of the documentary No Time to Fail to election workers worldwide in partnership with Election Hero Day and the Carter Center. Election workers who sign-up will be able to view the film for free anytime on May 18th and receive mental healthcare resources including TAKING CARE OF YOURSELF TO SERVE OTHERS: A Wellbeing Resource Guide for Election Officials, produced by the Carter Center's Democracy Program.
Official Hambly will be hosting a sit and craft livestream to help viewer's connect with their passion and love of arts. Art as therapy is a part of @officialhambly's journey in healing, and they are helping to share their passion and inspire others to take one hour a day to draw, crochet, paint, etc in their self care journey.
Outside the Box, a mental health podcast and event series invites you to "Spill the Tea with OTB!" on May 18th, 2023 - Mental Health Action Day. These live events, hosted by Dr. Janeane, will be held across platforms as a way to encourage conversations about mental health, share mental fitness strategies that can be done for one hour a day, and take part in the first annual Better Humans virtual art exhibit. Details on otbseries.com.
ProStorytellers will launch a 30-second PSA "Start With A Heart". Someone you care about is struggling and you may not even know it. Even your friends who appear strong and happy experience isolation, overwhelm, anxiety, and depression. START WITH A HEART is a 30-second PSA encouraging and showing how to check on our seemingly strong and happy friends to let them know you care about their mental health.
Rare Beauty: Building off their first in-person Rare Beauty Mental Health Summit, join Rare Beauty for 1 hour during Mental Health Action Day to reset, recharge, and recommit to your mental health and wellness. Learn about their "We All Have Baggage" campaign and hear from a Rare Beauty mental health advocates for tips on mindfulness, embracing what makes each of us unique, and practical takeaways for making mental health a daily priority.
Sam Now will urge partners to watch Sam Now on PBS (and streaming) and share resources to cope with intergenerational trauma, family dynamics, and mental health struggles.
SeekHer will share the MTV x SeekHer TraDish video with Flo before guiding women through mindfulness practices in small peer circles with exercises that support their practice to reset, receive and reciprocate care. We will end through a community discussion on what it means to take a moment for ourselves every through the busiest seasons of life. (Virtual at 12pm PT - RSVP here)
Sesh will invite members to sign up for a support session on 5/18, and invite B2B clients to allow their employees to sign up for a support session during the work day on 5/18 (or any day during the month of May).
Sikh American Legal Defense and Education Fund (SALDEF) will launch culturally competent resources in both English and Punjabi to address mental health issues as a result of trauma.
Sueñito Media: Dayna and Thea will discuss the launch of the Bake It Till You Make It documentary while they bake popcorn balls! Thea will ask Dayna to share community creating tips, how to have healthy conversations about food, breaking stereotypes, and making history. 1:30pm ET at instagram.com/suenitomedia
BCC Evolution and Tell My Story will be streaming two powerful films and featuring an expert panel discussion on mental health and bullying. Don't miss these opportunities to learn and engage in the conversation. 6-7:30p MDT virtual streamed to a private Facebook group and BCC Evolution YouTube. RSVP here.
Therapists' DAO: Psychotherapists are people too. Due to the isolation of our work and always being in the caretaker role in our professional relationships, a therapist's biggest unmet mental health need is socializing with peers. On May 18th, the therapists of Therapists DAO will convene for a virtual Happy Hour where we can laugh, support, and just be with other people who understand the complexities of the work we do.
Tiltify will host a Livestream titled "Dealing with Burnout" with @MsAshRocks on Twitch.tv/tiltify, 5/18/2023 @ 2pm Pacific
Virtual Brain Health Center: Join the Virtual Brain Health Center for Mental Health Action Day, a transformative event designed to empower individuals to prioritize their mental health and build resilience. Through a series of interactive sessions, expert speakers will guide you in taking charge of your brain care, providing practical tips and tools to help you cultivate emotional wellbeing and resilience in your everyday life. (Virtual event. Live-online. 11:00 AM EST Restorative Gentle Yoga with Rebecca Rigert of Rigert Mind Body Arts. 2:00 PM EST How to Build a Resilient Brain with LeAnne Stuver, M.Ed., BSN, Virtual Brain Health Center. 7:00 PM EST Mind Spa: Meditation & Breathwork with Vinny Bonnano, Founder of Stretching in Public
Zero Reasons Why: On May 18th, will encourage everyone to get outside, get moving, and take action by sharing their story, checking on friends, or starting conversations about mental health using #MoveForMentalHealth